Originally, it was "The Freshman Chair". It served as one of a score of sturdy dining chairs in the Freshman Dining Room, one of four large rooms on the first floor of "College Commons", the original name of Harvard's University Hall, designed by Charles Bullfinch in 1811.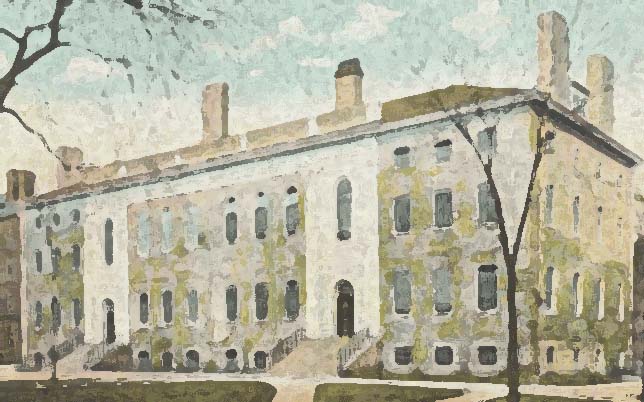 University Hall in the 1800s
Harvard freshmen apparently waged fierce food fights with upperclassmen. When this resulted in broken dishes in 1818, one of the young perps, Ralph Waldo Emerson, was "rusticated" (sent home) to Concord for a semester to think things over before returning. Designed with unique cutouts allowing them to be pulled from the table, the chairs were fashioned by local craftsmen to outlast anything students could come up with. Early in the 20th century, one of the remaining chairs was found and restored. A richly decorated replica dubbed "The Harvard Chair" was soon offered for sale to alumni by the Harvard Alumni Association. Since that time, this unique chair has been recognized, and utilized, throughout the college and proudly possessed by Harvard graduates throughout the world in their homes, libraries, offices, and practices.

During most of this time, "The Harvard Chair" was made only by Nichols & Stone in Gardner, Ma. As chair manufacturing shifted overseas, many old firms faced difficult times. Nichols & Stone was sold to outside investors in the 1990s and the new management refused a Harvard license. After years of missing fees that would have gone to undergraduate financial aid, Harvard acted. As Harvard alone could authorize its own unique style, it selected the family owned 100-year-old F.W. Lombard Co. in Ashburnham, one of the last traditional chair firms in Massachusetts, to create the first Harvard-licensed, updated version of its classic design (click here to learn more about Lombard). With its "comfort planed" seat and superior full-taper construction, Harvard had the chair it wanted, and alumni finally had a choice.

The Lombard Classic is available with seals of Harvard University, the Harvard houses, the Harvard graduate schools, the Extension School and summer school.

The Executive Program Collectiontm, exclusive to F.W. Lombard and Everything Harvard.com also includes all Harvard Executive Programs is available now! Click here.